Grantham SCITT Hub: Wyndham Park Nursery School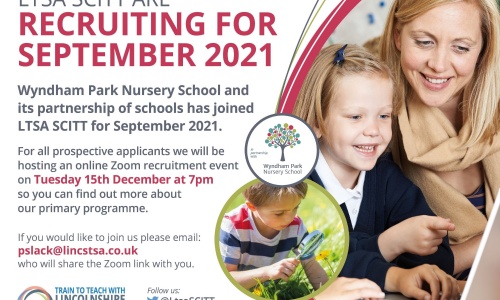 We are pleased to announce that Wyndham Park Nursery School is joining the Lincolnshire Teaching School Alliance (LTSA) SCITT partnership. They bring a partnership of schools, which will create a new SCITT hub in Grantham for our primary programme.
Recruitment has begun and we are looking forward to receiving applications from prospective candidates to train within the Wyndham Park partnership of schools starting in September 2021. Primary teacher training applicants can apply to train in any of the following age ranges: 3-7 years; 5-11 years; 7-11 years.
To find out more about our programme, please come along to our online recruitment event on Tuesday 15th December at 7pm, please contact pslack@lincstsa.co.uk to obtain the Zoom link.
For more information, please visit the Train to Teach section of our website.